Jax Kar Wash Coronavirus Status
UPDATE 6/3/2020
Where Are We today?
Currently, we are open for Exterior-Only washing. Full-Service and Detail is currently suspended as we work toward building our crew back. Cash is not currently accepted.
When we re-open Interior Cleaning, we will have Sanitizing Spray Foggers to sanitize the interior of any vehicle prior to our entry. This mandatory service will take about 60-seconds, which is the time it takes for the product to effectively kill any virus and bacteria (yes, including COVID-19, approved by the EPA).
We expect to resume these services around July 1 for Unlimited Members, and shortly after that for the general public. Please watch for updates at 
www.JaxKarWash.com/live-updates
 or subscribe to our Twitter feed. Not a member? 
Sign up here now
!
Thank you for your patience and support through these difficult times! We appreciate you, Southeast Michigan!
Want to Leave a Tip, But Not Have any Contact?
We Have Options.
Tipping is not expected, but appreciated if you feel you'd like to do so. Tips are split evenly between all production team members. They receive 100% of the tips (less taxes, of course).
Options for showing your appreciation:
NEW! No Touch/No Contact:
On some auto-attendants, you can leave a tip on your credit card
Drop a bill in the tip box at the exit. Watch for our new extended-neck tip boxes, coming soon.
If paying a team member with a credit card, you can add a tip to your car wash payment. Cash not accepted via human-to-human.
Thank you to all Health Care Workers and First Responders.  We hope you came in during our free month of washing in May.  That program has concluded.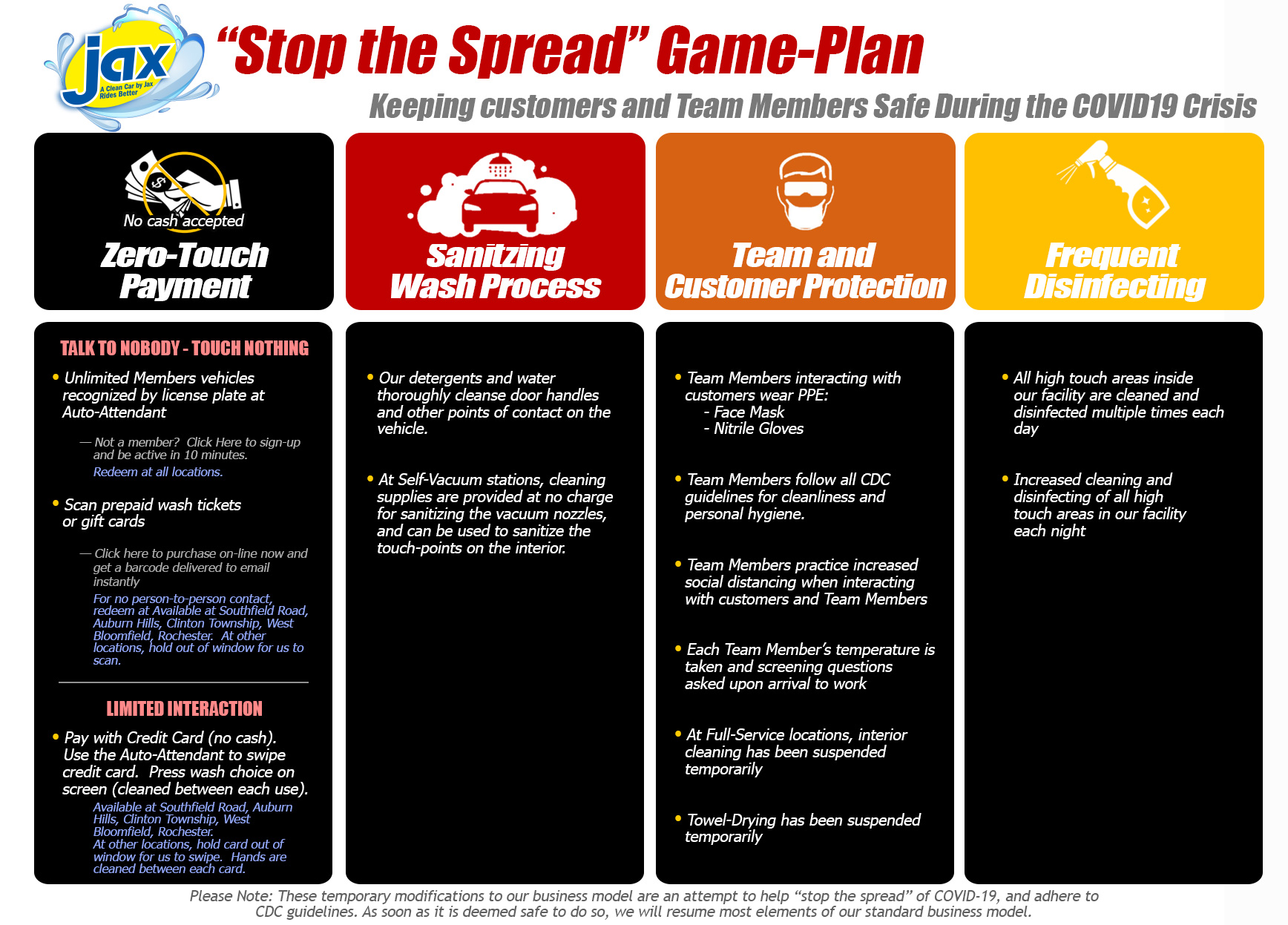 UPDATE 5/1/2020
Now, Auburn Hills IS OPEN!
Both Southfield Road and Telegraph Road locations WILL BE RE-OPENING on Saturday, 5/2/2020.
West Bloomfield is closed.
All other locations remain open.  We are taking our fight to a new level, and will be back as soon as we can at West Bloomfield.
Please see other updates below about towel-drying.
Unlimited Members: If you need to put your plan on VACATION HOLD, click here, login, then press the green VACATION HOLD button.
With Vacation Hold, you don't lose any time, and won't be billed.
.
UPDATE 4/29/2020
Now, in addition to Auburn Hills, both Southfield Road and Telegraph Road locations are closed by the state.
All other 6 locations remain open.  We are taking our fight to a new level, and will be back as soon as we can.
Please see other updates below about towel-drying.
UPDATE 4/27/2020
We will not be towel-drying cars for the time being.   This is to comply with the Governor's intent to limit interaction between people.  Thank you for understanding.
Also, Auburn Hills has been shut-down by the city.  One nutty person complained even though we are maintaining strict CDC guidelines and have less contact with customers then at the grocery store or carry-out.
UPDATE: 4/24/2020
WE! ARE! OPEN!
All Jax Kar Wash locations are NOW OPEN!  For everyone's safety, we will be doing so in a limited capacity as of Saturday, April 25, 2020.
We are offering:
Exterior-Only Washing.
Free Self-Vacuums, every-other lane (Birmingham excluded).
Sanitizing wipes for guests to use on vacuum nozzles before and after use (and inside your car if you'd like). You must wear a mask & gloves.
Credit card only. No cash will be accepted.
Also: We've partnered with One-Way Restoration who will be offering interior decontamination service for a small fee. Please visit our website for location schedule:  
https://www.jaxkarwash.com/decon/
Please understand, for the safety of all, we are not having contact with customers.  If you need assistance, call a manager from your car.  Phone numbers are listed here.
POST DATE: 3/23/2020
Due to the Governor's shutdown order, we are temporarily closing for business as of 3/24/2020.  We are so sorry we can't be here for you.  Please continue to check our live-updates feed here for updates, or follow us on Twitter for the same feed.
UNLIMITED CLUB MEMBERS:
While we are working to determine if we would fall under the "automotive" exemption of the Governor's shutdown order, we are expecting to temporarily close for business.  However, if we get clarification that we are exempt, we will re-open for Unlimited Members only.
If we do close, there will be no more credit cards being charged.
When we do re-open, we will be extending everyone's plans for any paid time you have to date.
Due to this freeze, account access is currently unavailable, but know that you WILL NOT BE CHARGED, and you will not lose any time for which you have paid.
Please do not contact our offices for special requests as nothing else can be done during this freeze.
We value you tremendously, and will do what is right to make you whole when this is all over!  Please be safe.
-Your Jax Family