Answers to Your Car Wash Questions
Find the answers to your car washing questions about our services, practices, unlimited club, and more. At Jax, we're dedicated to customer care and satisfaction—we want your car to be as clean and comfortable as possible! We're proud to provide you with your best car wash experience in Michigan.
Please use the information below to learn more about the services we offer and get the most out of your visit to Jax!
Tipping is very much appreciated, but not required! Any tips provided by our customers are pooled and split between all team members, based on the number of hours they work. For example, someone working 8 hours will receive twice the about of tips of someone working 4 hours. 100% of the tips go to the production line team members, less taxes.
Tips can be given by cash or by touchless payment on our website or at our auto-attendant via credit card.
An Express Wash is our Exterior-Only car wash. Detail Express is an "after the wash" service such as the Express Wax (applied by hand), Carpet Shampoo or SuperClean service.
All of our Express Detailing Services are by appointment. Usually, a next-day appointment is available when you call to book. Find locations where detailing is available here, and call the location of your choice to schedule your appointment. Pre-payment for your Auto Detailing service will secure an appointment at any available location.
Each vehicle is different, both in size and the extent of attention it needs. Our general rule of thumb is about 30 minutes per service, so if you choose a Hand Wax and Carpet Express, it would be around 1 hour. Most people do not leave the premises while their services are being performed, but you are welcome to.
We do not use brushes on the paint—just soft cloth which is heavily lubricated. We have Unlimited Club customers with black cars who have washed up to 6 days per week for years and they are very happy with the safety. Touchless washing is a popular service that we offer, but soft cloth washing provides a more consistent cleaning and it is safe for all vehicles.
Absolutely! Without your complaints, we can't improve! We reply to every comment and take them very seriously. The compliments are shared with the staff. Your address and phone numbers are kept confidential. You can provide your customer feedback here.
Please click here to find the tire information for specific locations; each location's capacities are different.
Please click here to find the size information for specific locations; each location's capacities are different.
We accept credit cards: Visa, Master Card, American Express, Discover. At this time, we do not accept cash at the booth or Auto-Attendant. You may purchase 3-Paks or Gift Cards on our lobby with cash. We also accept Wright Express and Voyager. Sorry, we don't accept checks.
Sorry, we do not clean headliners. The glue can break down, causing the liner to fall.
Sure! Just let us know after the wash, and we'll use a special degreaser to cut through that stubborn film. Then, regular window cleaner applied periodically should keep it clean going forward. Free with a Full-Service Wash. See a manager.
Yes! We offer Rain-X on several Express Exterior and Full-Service packages. Rain-X helps water bead up and fly off your windshield as you drive, and makes it easier to clean off bugs and ice from the glass.
We sure do! We offer a free Exterior Car Wash for Registered Rewards Members within 2 weeks of your birthday! This entitles you to one wash only, chain-wide. You must be registered as a Rewards Customer to get a free Birthday Wash (Exterior-only wash). Be sure to register at least 1 day prior to your visit!
Just follow the "Update Profile/Email Address" link at the bottom of any email we send you, and you will have the option of changing your email address. If you don't have an email from us, go click here and put in your registered email address; you will then have the option to change it.
Yes! Show your card and save 10% off car washes, special services, or detailing.
Cross-Grading allows you to upgrade your car washing service on a visit, with no additional charge by exchanging interior service for the next highest tier of exterior service. Learn more about Cross-Grading here.
Additional Information:
The Exterior Basic Plus (22.99) Plan does not have a cross-grade option, but if you'd like the Interior Clean, it would be an additional $16 on that visit.
As you may know, we offer a free wash on someone's birthday. If you are an Unlimited Member, there is no charge for your wash anyway, so if you would like a free upgrade on your birthday, just ask for a manager and he will approve an upgrade to the next higher package on that visit. Thank you for being a loyal Unlimited Member!
We offer 3 Unlimited Plan types, and you can add-on the Interior Cleaning option to any of them. To see the plan types, click here.
You can change your plan type as often as you want by following the instructions below.
UPGRADES:
If you choose a higher-priced package, the system will charge you the pro-rated amount, and apply the upgrade immediately.
DOWNGRADES:
You can downgrade your package at any time, and since you've already paid for the current billing cycle, the change takes effect as of your next billing date.
TO MAKE CHANGES: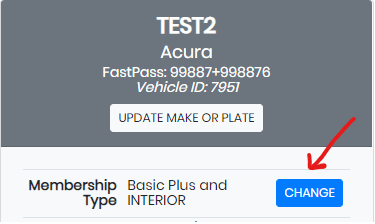 We realize that sometimes your car has to go into the shop, but you want to continue driving around in the clean car to which you've been accustomed! Here's how we can make that happen for you.
After you get your car back, repeat steps 1-3. This can be done from the comfort of your own home or office; you won't even need to get out of your car at our site! Please note that each change counts toward your 4 changes per year. So we suggest that you only make the change and wash the loaner if you will have it for a while.
Loaner papers are no longer needed; going into the lobby on each visit for management permission is also no longer needed! Whether the vehicle will be in service for one day or one month, the process will be the same.
This is the only way to wash a different vehicle on the plan.
It's easy to change your email address, phone number, name, or other personal information. To do so follow these steps:
Need to update your Credit Card number, expiration date or billing address? Easy as pie!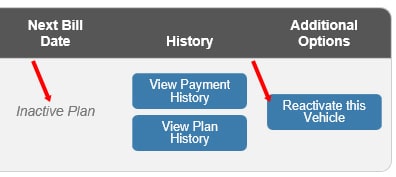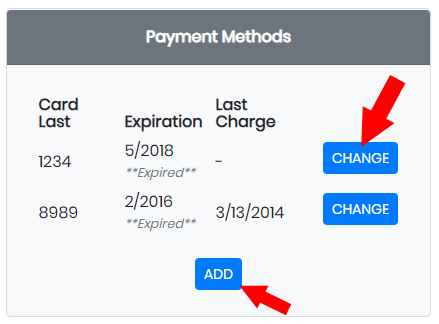 You may also add an additional credit card to your record. This can be useful if you have more than one vehicle and want them billed to separate credit cards. See the next FAQ for more information.
Do you have more than one Unlimited vehicle, but want them billed to separate credit cards? No problem!